The Way of the Heart with Dr. Mark Hosak and Eileen Wiesmann
Know the way of your heart
Leave stress behind, awaken your inner powers and live your unique vision
Leave stress behind
Do you feel overwhelmed and stressed?🤔
The key is our holistic and relaxed way of cultivating inner peace. 🧘🏻
From Shingon Reiki, yoga, qigong to meditation and shamanic rituals, there are many ways to lower your stress levels and increase your well-being. 🙏
We want to help you reduce your stress levels and encourage you to embrace the positive changes in your life! 🤩
Follow our simple steps to become a more relaxed and focused version of yourself. 💆🏻
Awaken your inner powers
You can do more than you think! 🚀 Awaken your inner powers and let them blossom! 🤩
On the Master Paths with Shingon Reiki and Wolf Shamanism we will show you how to dissolve obstacles with ease, discover your hidden inner powers and develop psychic abilities.
Now is the time to unlock the door to a life of happiness and abundance, both internally and externally! 🔓🔑
To awaken your inner powers to receive a life of happiness and inner and outer abundance.🔥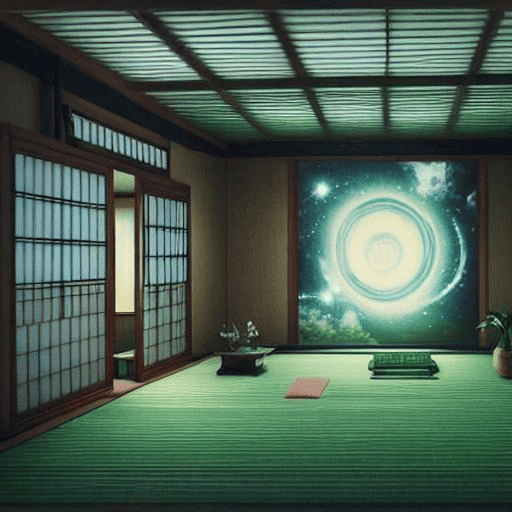 Live your vision
Make your dreams and heart's desires come true! 💫
With Reiki Coaching we help you to discover what your soul really wants from the bottom of your heart. 💗
Step by step we will find your individual and unique way of the heart, as it corresponds to your true nature. 🌟
We help you develop the courage and perseverance to make your dreams come true! 🤩
You want to achieve your goals and realize your unique vision? Then let's start today and go the way of your heart!💥
Book your free initial consultation now
with Eileen Wiesmann and Mark Hosak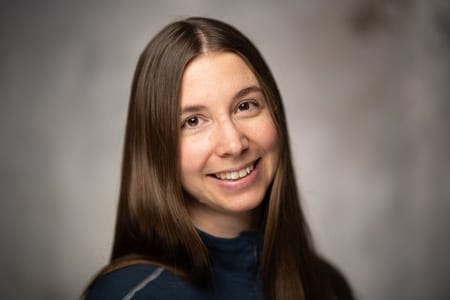 Eileen Wiesmann
Coach & Blogger
With my weekly training at Zen Oasis I help you to relax, refresh and revitalize! Lassen wir gemeinsam den Alltag hinter uns und tanken neue Energie! Come by now and experience unique moments of relaxation! 🌿🤗
You want to free your life from excessive overstimulation and exhaustion? Have more energy for yourself and your loved ones? Realize your vision and use your diverse talents for the good of all? Live naturally, sensitively and empathically? Then come to me in the annual training Serenity – Your Spiritual Home. I will help you in a holistic and very simple way with your self-realization on your path of the heart. Let's get started! 🙌
Dr. Mark Hosak
Reiki Coach & Author
Do you feel stressed and exhausted? 🤯 Do you wish for inner peace and serenity? 🧘 The Shingon Reiki Master Way helps you to walk the path of your heart.💆🏻 Awaken your spiritual healing powers for yourself and for others. With Reiki you live true spirituality – mindful, compassionate and authentic. 💫 Help others too with the power of Shingon Reiki. 🙌
Are you ready to 🧙 free yourself from foreign influences, train psychic abilities and communication with spiritual beings, 🔮 realize your vision and connect with your true nature? With the 🐺 Wolf Shaman Master Path you can achieve all this and much more! 💪 It's time to realize the path of the heart, release the forces within you and live life to the fullest.🔥 Let's get started!🤗
Feedback & results from real customers
What enthusiastic customers say
Dear Mark,
I really enjoyed your "
Mini Online Course 7 Secret Reiki Techniques
" and it truly inspired me. I was able to flexibly manage my time to watch and practice the content shown, which is very much in favor of this course. I also really liked the mix of text content and video content, as I personally also just like to read in between. Your videos are the perfect complement to the text content and immediately motivate to participate and implement. Now I am already excited about the great online course of Secret Reiki Techniques and am looking forward to it tremendously. Many thanks for this!
Many love greetings,

Natalie Reichel
Coach from Neuburg
I found you through your book "Reiki in Therapeutic Practice". From Eileen, the "Secret Qigong" had particularly appealed to me.
I always find your emails very interesting, motivating and what you write makes me curious. It awakens the will to develop myself further. So it's about time to say thank you for that. Please keep up the good work, you and Eileen. I like your music. You have a beautiful institute (I looked virtually).

Grit Rodenbeck
from Cottbus
It has been 2 months since I received my Shingon Reiki Level 1 Initiation. I am a Karuna Reiki Master and also practice several other energetic systems. I have tried out which system is most effective with my clients. Every time a system didn't work, I tried Shingon Reiki. 10/10 times it was more effective than the other systems I practice. This is because this is not your typical Reiki course.
Mark is a great coach. His style is very matter-of-fact, precise, and patient as he takes a "no nonsense" approach that I can appreciate. He also has a wonderful sense of humor! His Reiki story/line is out of this world and he has taught me more than other Reiki Masters of my past. Much has been lost in modern teachings. This course will bring you back to Reiki if you have lost your way with other healing systems. I am grateful that I had the opportunity to take his online course. He does his job comfortably and I would take anything he teaches.
Erin Crowell
Lissabon, Portugal
Mark's "7 Secret Reiki Techniques" were transformative for me. I felt like Mark while offering Reiki and wondered if I was making a Reiki connection with myself, the animals and the clients.
Using the breath with the Golden Buddha light made all the difference. I also had a focus that directed my mind to my breath and my hands. Personally, I needed this because my mind can wander and then some energy can be lost. Mark riet auch dazu, dass der Klient sich darauf konzentriert, wo die Hände sind. We all know the power of intention.
Very, very useful and effective.
Vielen Dank, Mark!
Karen Eddings
Lifestyle medicine and wellness coach
Nordosten, USA
Our offers
Step by step – Spirituality with system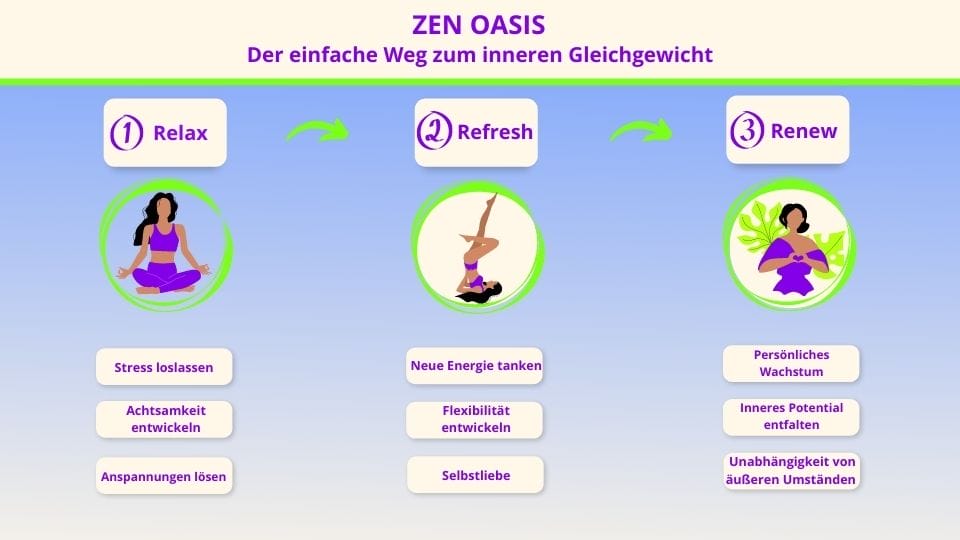 Zen Oasis - Relax - Renew - Refresh
Feeling overwhelmed and need some relaxation? Take a break and make time for yourself with Zen Oasis! Our effective exercises from Qigong, Yoga and Meditation will help you to regain your inner balance and create a personal oasis of well-being. 🧘✨
Fill up with new energy with gentle movements. Free yourself through relaxing stretches and develop flexibility in body and mind. Treat yourself to time out, relaxation and self-care with Zen Oasis. 🤗
Do you feel overwhelmed and want to leave stress behind? ✨Do you want to awaken your inner powers and live an extraordinary life according to your unique vision? 🤔
If you practice Reiki and want to get more out of it, develop personally to invite happiness into your life, or find your calling with Reiki, come to the Shingon Reiki Master Path and discover your path of the heart. Embrace a life of abundance and take control of your destiny!
Serenity
Feeling overwhelmed and need some relaxation? 🤔Take a break and make time for yourself with Zen Oasis! 🧘Our effective exercises from Qigong, Yoga and Meditation help you to find your inner balance again and create a personal oasis of well-being. 💆
Fill up with new energy with gentle movements. Free yourself through relaxing stretches and develop flexibility in body and mind. Treat yourself to time out, relaxation and self-care with Zen Oasis. 🤗
The Wolf Shaman Master Way
Are you ready to unleash your inner and supernatural powers? 🔥 Do you want to detach yourself from foreign influences and free yourself from negative energies? 🧙
Do you want to realize your vision and live your dream every day? 🌃
Let the Great Spirit guide you, discover shamanism and nature magic, and free yourself to realize your true potential. 🌱
Take the first step and join us on the journey of the wolf shamans to find your true nature. 🌍
Here you can experience something!
Shingon Reiki – Wolf Shamanism – Meditation & Qigong
Mark's books are known from:
Haug Thieme Publishing House
Oliver's publishing house
Wind Horse Publishing House
Take a look at the Shingon Reiki Schamanismus Institute
The place of meeting to feel good and accepted
Hello! I am Mark Hosak
As a Reiki coach and author, help you identify your vision, live your calling and master your life.
Early in my childhood, I knew that a life in a company would not be for me, so I found a way to make my hobbies my profession. This is possible because my hobbies are my vocation.
If you want to learn spirituality for yourself or even use it professionally, I can help you with that.
For over 35 years I have been training spiritual methods of self-realization and inner kamfp arts. And I have been teaching in it for over 20 years. Here in my bio you can learn more about my career.
With joy I show you to recognize your way of the heart and to go it step by step, as it is meaningful and suitable for you.
Do you want to know how we can make this happen? Very nice, then sign up right away for a free and non-binding strategy talk with me and find a suitable date from my calendar.
I look forward to seeing you.
Mark Hosak
Hello! I am Eileen Wiesmann
As a visionary and coach I show you the way to yourself
Early in my childhood I felt a deep connection to nature and its inhabitants. Secretly I crept into the forest to connect with the forces and beings of nature. This gave me the strength I needed for my growth and development, because normal life was rather not for me.
Otherwise, I lived out my life as a goth lady in the goth subculture and enjoyed reading fantasy novels. The magic from it I wanted to somehow bring to the application, without knowing how that actually goes.
Then there was a phase in my life after school where I devoted myself fully to science and my studies. For the time being, I didn't want to have anything more to do with spirituality, because I fell prey to the mistaken belief that a university career was the right thing for me. But far from it. Although I am still enthusiastic about researching old knowledge, the working environment and the way my contemporaries dealt with it did not suit me at all. At first I didn't want to admit it, but everything fell into place in such a way that I found my way back to my spiritual nature-connectedness in order to live my true talents as a highly sensitive person with spirituality privately and professionally.
I will be happy to help you in the Spiritual Home step by step to live your vision.
Do you want to go your heart's way?
Free initial consultation
Let's find out together what you need, identify your vision, remove obstacles so you can walk your path of the heart.
Best possible solution
Together we will find the individual plan and way for you to transform your heart's desires into tangible goals step by step.
Walking the Heart's Path
On the master paths in Shingon Reiki and Wolf Shamanism, we stand by your side with advice and support for your further development.
Choose a date that suits you and answer the questions that I can respond to your needs.
30 minutes initial consultation
Here we get to know each other and I answer your questions.
Optional second consultation
If necessary, we will meet a second time to clarify your further questions.
Beginning of your master path
Start of the master way with personal accompaniment for you, if everything fits.
Book your first appointment now