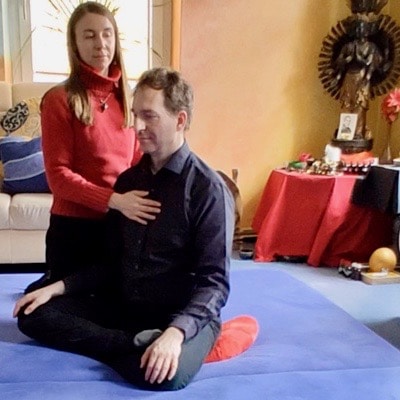 Shingon Reiki Level 1 (online)
Shingon Reiki Level 1 offers you the classic Usui Reiki Ryoho with extensions from Buddhist healing methods in the context of meditations of healing.
With the initiations, you can transfer the Reiki power with your own hands and use it healingly for yourself and others. In addition, you will receive a Buddhist initiation into the mantra and Siddham symbol of the Medicine Buddha and the Bodhisattva of blessing. With the medicine buddha you increase your energetic abilities and with the bodhisattva of blessing your learning abilities.
The Reiki power is spiritual life energy and stimulates the inherent self-healing powers. So you can activate your own abilities to heal yourself with the Reiki. This applies to both the body and the mind and soul. So the Reiki method is a spiritual path that is suitable for healing and your personal development. Shingon Reiki is also a quick way. Therefore, after a weekend with the In Shingon Reiki Level 1 and the applications it contains, you can do a lot without practicing for many years.
In Shingon Reiki Level 1, you will learn the traditional Reiki techniques as well as meditations and methods from Buddhism with two mantras and Siddham-Bijas, with which you can use further powers of the Medicine Buddha and the Bodhisattva of Bliss from Japanese Shingon Buddhism. This is one of the sources from which Reiki founder Mikao Usui developed the Reiki healing method.
Contents in Shingon Reiki Level 1
History and introduction to traditional Usui Reiki and Buddhist healing methods in In Shingon Reiki Level 1
Lecture with pictures from Japan about the life of Mikao Usui, the memorial stone and the rules of life with meditation
Four traditional initiations into the Reiki power
An initiation in the Medicine Buddhas and the meditation of Mikao Usui on Mount Kurama
The 41 hand positions of the Shingon Reiki for head, shoulders, back, torso, arms and legs
Shingon Reiki Aura and Chakra Cultivation for the purification of the aura, the balance of yin and yang, the life chakras, the chakra balance and and magnetic aura stroking
Cleaning of objects
Group Reiki
Intuitive Reiki applications for body and aura
Meditation with the Medicine Buddha
Meditation to increase learning ability
Methods of raising awareness and increasing perception (byoses)
Distance healing and earth healing
Included in the In Shingon Reiki Level 1 seminar: illustrated manual with approx. 100 pages; MP3 audio book with the manual and many supplements spoken by Dr. Mark Hosak
Upon completion of the seminar, you will receive the In Shingon Reiki Level 1 certificate
Lecture hours:
Friday 19-22
Saturday 10-18
Sunday 10-18
—> Central European Time Zone (Berlin: GMT+2)