Vodoo – Shamanism – Nature Magic
Free yourself from external influences, recognize your vision and connect with your true nature
Learn shamanism at your pace in any place at any time.
Experience rituals and shamanic spiritual healing live.

Ask your personal questions and develop your true potential.
Share your experiences and exchange ideas with friends along the way.
Live events and online content
Mediumship and clairvoyance
Lebensberatung mit dem Tarot
Akasha-Chronik Lesen
Channeling
Tierkommunikation
Schamanisches Pendeln
Erkennen von Besetzungen
Kommunikation mit Verstorbenen
Besetzungen aufspüren mit dem Tarot
Medialität und übersinnliche Wahrnehmung
Shamanic rituals and voodoo
Wolf shamanism and rituals
The Wolf Flintstone Ritual
Shaman altar
Treasure Chest Magic
Japanese Shamanism
African American Shamanism
Shamanic healing drumming and wolf dance
Voodoo & Hoodoo for success, love, luck and money
Shamanic Astral Travel
Body Astral Travel – Time Travel & Dimensional Gates
Shamanic Wolf Paths and Vision Quest
Shamanic Soulhunting
Astral travel to the upper and lower worlds
Shamanic astral travel and energy fields
Advanced Soul Retrieval and Purification
Eastern secret teachings and magic
Sigillen und Talisman Magie
Aura Chakra Magic
Feng Shui Magic
Östliche Magie
Kuji Kiri 1
Kuji Kiri 2
NLP Magic
Magischer Altar
Japanische Magie
Schamanische Runen Magie
Protection and cleaning
Banishing and dissolving negative echoes
Spiritual purification and purification
Soul and Karma Purification
The Wolf Fire Ritual

Clearings on power places
Clearings with wolf crystals
NEW: Spiritual Self Defense

Purification of influences with the Tarot

Constructive handling of negative influences
Shamanic Spirit Healing
Shamanic Healing and Discussing
Shamanic Soulhunting
Nature Shamanism
Shingon Reiki 1
Shingon Reiki 2
Spiritual purification and purification
Astral travel to the upper and lower worlds
Shamanic healing drumming and wolf dance
The way to the wolf shaman
Cultivate the shamanic consciousness
"I am the spirit of nature – the spirit of nature is in me" is a state of being based on the ancient knowledge of the shamans. Returning to the true nature is recognizing the vision and purifying the mind.
To the Wolf Shaman Master you will learn to build this relationship with nature, connect with the spirits of nature and how to use this to improve your life and achieve your goals.
bring you many advantages. They can help you improve the quality of your life and strengthen your health. You will learn a comprehensive collection of shamanic rituals, how they work and how to perform them step by step.
The focus is on the most effective shamanic rituals with artifacts that establish a safe connection to desired forces and spirit guides. In this way you keep yourself free of foreign influences and the Spirits always come to you whom you also call.
With the Wolf Artifacts you can perform rituals with a variety of effects: Purification, protection, defense, attraction, getting rid of, charisma, transformation, enthusiasm and much more. Some artifacts you can carry with you at the same time as an amulet.
Shamanic journeys and power places
In the shamanic worldview there are several levels and forms of existence. With our consciousness as human beings we stay in the material plane. The connection with nature and your primordial nature gives you access to the spiritual and astral planes. It's like diving into whole new dimensions. You begin to see things as they are and experience phenomena that no one else sees.
Thereby I will introduce you to nature shamanism. You learn to connect energetically with soulful trees, rocks, streams and mountains in power places to feel and channel their power. This purifies and strengthens your connection between heaven and earth and like a tree of life you take your place in the cosmic order.
With shamanic power place work, you will learn how to heal the earth and how to invite the power of nature into your home so that your home becomes your power place. This is like a blossoming and a great glow in your heart.
Through the deep feeling of connection with nature and the awakening of the perception of the spiritual world, it is only a small step to shamanic travel and astral travel. There you can explore your soul landscape, retrieve soul parts and meet your true self.
The Great Wolf, Power Animals, Spirit Guides and Spirits
Your shamanic journey begins with the Great Wolf, one of the most powerful beings in shamanism, who is connected to other animal spirits and nature spirits. Along the way you will learn about different roles and types of power animals and your spirit guides.
The Great Wolf teaches you how to come into your power and how to strengthen the connection with nature and its inhabitants. Then it is exactly the right time to get to know more power animals like dragons, eagles, hawks, panthers or the jaguar and your spiritual ancestors. Each of these spirits has its own magic and can act as your spirit guide when you find each other. I will show you exactly how this works and how you can interpret the signs correctly.
Spirits and spirit guides, with wisdom, have the ability to bring about change in your life. Learn to bring their power into your everyday life to achieve success and happiness.
Since ancient times, it was believed that illness and suffering come from evil spirits. Today it is said that the cause of illness is due to psychsic stress. However there are influences that can throw us off track until it becomes deeply felt in the body, mind and spirit.
With Shamanic Spirit Healing you can free yourself from influences of foreign forces and purify your spirit. In doing so, I will show you how to find out the spiritual, energetic and metaphysical causes. This way you know exactly whether a problem comes from your inner life or from the outside and can act accordingly. This helps you to recognize yourself, who you really are.
A special focus of Shamanic Spiritual Healing is the recognition and removal of foreign influences and negative energies for your true experience of well-being and peace of mind. This also includes the transformation and dissolution of sorrow-causing magical energy patterns, curses, occupations and how you can protect yourself from them.
Clairvoyance, channeling and animal communication
Imagine that you are in constant contact with your High Self and with your spirit guides and that you can ask them for advice at any time, let them speak through you and show you the way.
You don't need talent for that. The ability is already in you and waits for the day when it may come out and live out. In a protected setting you will learn to awaken these powers and use them for yourself for the benefit of all.
In animal communication you can contact animals and power animals. You can ask power animals for advice and learn from their wisdom. Animals you can help in spiritual communication to find out their needs, understand them and build a fantastic relationship with them.
Choose your training plan
Choose your suitable plan
If you want to learn online from the comfort of your home, then online training is the right choice for you.
If you also want to participate in live events, either online or on-site, and enjoy monthly live coaching, then Live Training is the right choice for you.
If, in addition to online and live training, you want personal support and individual private training with content that will take you to new shores, then come to VIP Training.
Online training
Academy & Community
Shamanism Academy

Home workout

Online courses

Community

Guided practice

Basics to Masterclass

Consecrated artifacts

Smartphone App

Monthly updates
Live Training
Events & Coaching
Live Events
Live Coaching
Q&A Recordings
3-day final training

initiation to wolf shaman

wolf shaman master certificate

Shamanism Academy

Home workout

Online courses

Community

Guided practice

Basics to Masterclass

Consecrated artifacts

Smartphone App

Monthly updates
VIP Training
Personal care
2.5 days of private training at an inspiring location
Monthly private coaching
Personal hotline

Secret practices

Live Events

Live coaching

Q&A recordings

3-day final training

Initiation to the Wolf Shaman

Wolf Shaman Master Certificate

Shamanism Academy

Home workout

Online courses

Community

Guided practice

Basics to Masterclass

Consecrated artifacts

Smartphone App

Monthly updates
Voices of enthusiastic participants
With Mark's Wolf Shaman Master, I had completely new possibilities and great results immediately after each event. The training is fun and motivates to incorporate shamanic work into daily life.
I have experienced really wonderful things with the wolf: Among other things, I got rid of very persistent negative influences and bullying and can use my high sensitivity meaningfully in my everyday life.
As a historian, I really appreciate Mark researching and working with real shamanic traditions. They still exist and he spares no effort to make this ancient knowledge accessible to us today.
In the 5-star system, I would give the master training 10 stars.
Keep it up, dear Mark!





You want to learn Wolf Shamanism, Shamanic Spirit Healing and Rituals in an easy to understand and directly applicable way? Then come in for a no-obligation initial consultation. To do so, choose a suitable date from my calendar and fill out the following form, so that I can optimally prepare for our conversation.
Choose a date and fill out the form that I can prepare in the best possible way.
30 minutes initial consultation
Here we get to know each other and I answer your questions.
Optional second consultation
If needed, we will sit down a second time to discuss deeper questions and payment arrangements.
Start of the master path with personal accompaniment, if everything fits.
Book your first appointment now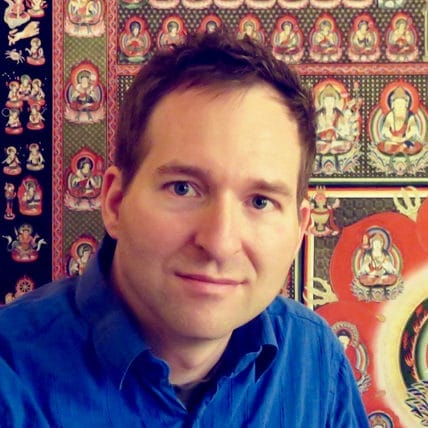 "The wolf is the absolute gamechanger in liberation and protection from outside influences for me"
In 2017, I was mugged in my car. Another vehicle braked my car and two pretty bad guys jumped out. That's when I asked the wolf for help. Their faces froze and they drove off with squealing tires. Whatever the attackers saw must have looked uncomfortable to them. There the wolf has probably shown his fighting side, although he is otherwise a cheerful and laughing wolf. I myself did not lift a finger. Since then I have been protecting myself and others with wolf shamanism.