In this article I show you what Reiki has to do with crystals and how you can combine them with Reiki.
Reiki techniques with crystals
Reiki techniques with crystals enjoy great popularity. In fact, this is not a combination of two different systems, but crystals are part of Reiki. In order to trace the common origin, we dive deep into Far Eastern secret teachings and use this incredible knowledge practically for our Reiki applications.
Usui's deep knowledge and training
Mikao Usui knew spiritual methods and traditions very well. Buddhist secret knowledge accompanied him since childhood, when he attended a school of the Tendai tradition. He later became a lay monk of the Shingon School, the oldest school of Tantric Buddhism and hidden wisdom teachings in Japan.
He was initiated into great secrets and practices not available to outsiders. He also experimented tirelessly himself, reading and researching about spirituality, history and medicine. Mikao Usui was multi-talented and extremely creative.
Unfortunately, after his enlightenment experience in the Kurama Mountains, where he came to Reiki, he had only four years left to teach this wonderful method. Far too little time to put all his know-how into the Reiki system.
How I discovered Reiki and crystals
As a historian, I researched what Mikao Usui knew. I even became a Shingon monk myself over 20 years ago in Japan to walk in his paths and also to gain access to his secret sources of knowledge (yes, what doesn't one do as a true Reiki nerd).
In the process, I also came across the crystals. I was especially pleased because I was excited about minerals as a small child when I didn't know about Reiki. In Reiki with Crystals I show you how to effectively integrate crystals into your Reiki applications. You are opening a door to a great field of experimentation where you can express all your creativity as a Reiki practitioner.
Contents from the event Reiki with crystals
Create multidimensional crystal force fields in rooms

Beautiful crystal mandalas for a great feng shui

Reiki Crystal Meditations

Integrate crystals into Reiki applications

Activation and charging of crystals with the secret forces of Yin and Yang

Absorb crystal forces and pass them on to others

Training psychic abilities with crystals
After looking at exciting things from the theory of Buddhist secret teachings, we want to put this knowledge into practice and try out Reiki applications with wow effect.
Yin and Yang Crystal Fields
I will show you how to charge stones and crystals with the secret powers of Yin and Yang so that they receive a blessing from the source of Reiki power. Afterwards you can give Reiki applications with the crystals with laying on of hands or for the aura.
To prevent you from accidentally throwing the stones at your client's feet, I will show you a simple and practical trick that will make your Reiki crystal applications safe.
However, the secret forces of yin and yang can also be invoked entirely without material crystals to improve room feng shui. We'll try that out and do the before and after test.
These crystal fields are strongly harmonizing as they connect heaven and earth and remind us that everything is connected.
Crystal mandalas
Little by little we expand our possibilities and build whole mandalas with great crystals, whose powers we distribute throughout the room. This looks very nice, but is not only chic, but also feels very good.
Reiki Crystal Meditations
In Reiki crystal meditations we absorb the Reiki together with the energy of a crystal and fill our body and aura with it. In the next step, we absorb crystal powers to pass them on to others. This is convenient because you cannot easily move large druses, for example, in the aura of your clients.
Crystals are also a great addition to 2nd degree applications and can be used very well in applications where we activate the self-healing powers with Reiki to release mental and emotional blocks. Thus, they are valuable companions for our personal development.
Crystal Wands
Finally, we will experiment with crystal wands and Reiki. In the process, we'll look at different types of rods and you'll learn which kind you can use for which purpose. With some staffs you can, for example, discharge used energies and partly even transform them.
After that I wish you much success with what you have learned and your imagination is needed. Through Reiki with crystals, you not only get advanced Reiki techniques at hand, you also learn to better perceive and direct energies. In this way you will develop your spiritual abilities and be able to support yourself and others even better with Reiki.
To be able to use the contents of the event Reiki with Crystals optimally for you, you need the 2nd degree Shingon Reiki or Usui Reiki.
Register now for the event Reiki with crystals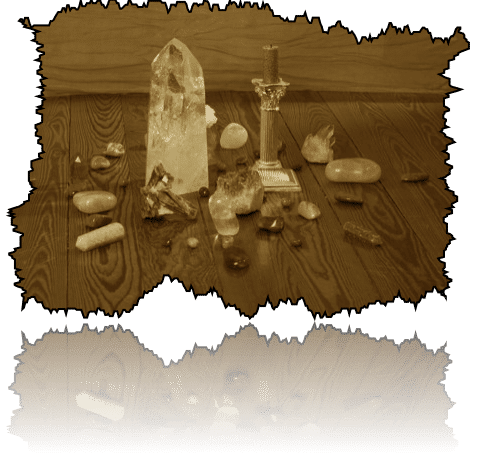 Reiki with crystals
May 15 with Mark
Awaken the powers of the Reiki crystals, open your crown chakra and invite the crystal energies of the heart's desires!
More info